The apartment, inhabited for centuries by the Savoy nobility, still preserves its vestiges in the frescoed ceilings or in polychrome coffered as well as in the wooden floors with geometric designs or planks.
Items of great high value belong to the original building of the late 17th century, such as polychrome coffered ceilings, paintings on the walls, wooden squared floorboards, mirrors and gilded stuccos above doors.
A subsequent structural transformation of the mid-nineteenth century by Alessandro Antonelli – author of the Mole Antonelliana which became a symbol of the city of Turin – is visible in the marble staircase and in the access to the courtyard-side veranda.
The gilded stuccos and frescoes on the ceilings of the main hall – signed and dated by the court painter of the House of Savoy, Francesco Gonin (Royal Palace, Villa della Regina) –  and of the study – by Federigo Pastoris (Borgo Medioevale del Valentino) – are also from this period.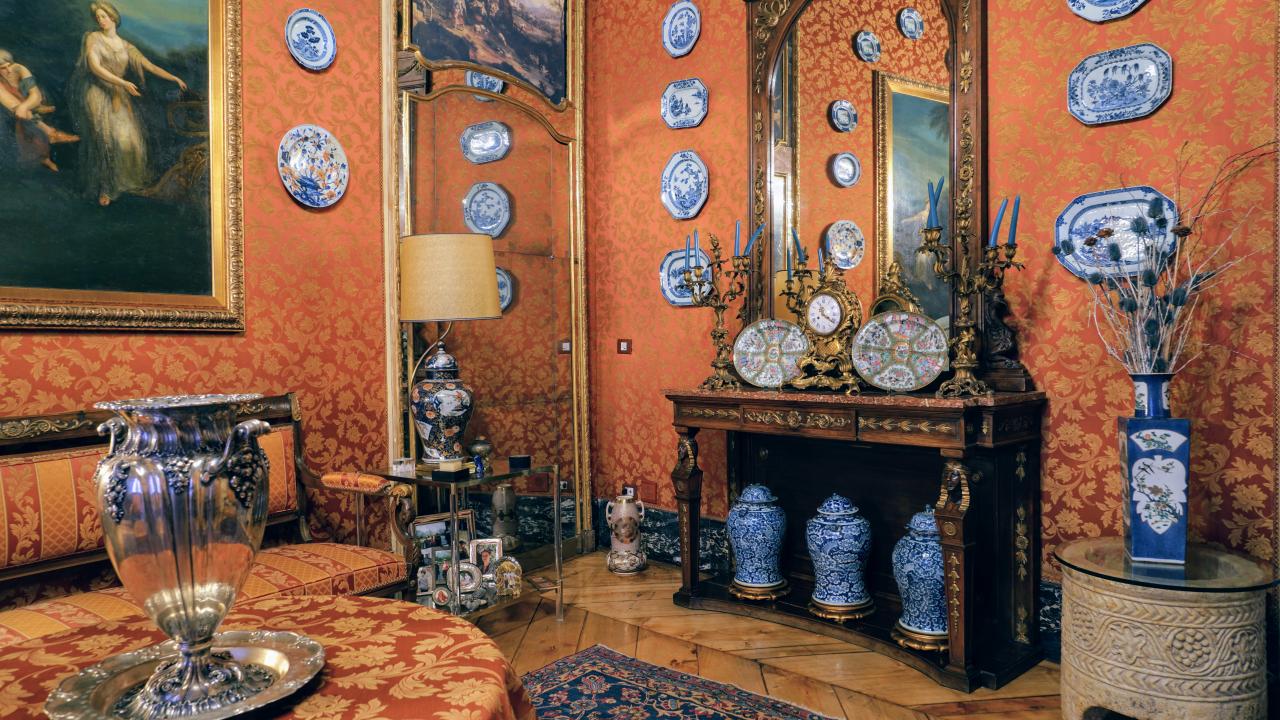 The Chinese hall
Where in a cozy seventeenth-century setting, coffered ceiling and antique box, enriched with Chinese vases from the 17th and 18th centuries, you can sip a tea on armchairs from the 19th century "retour d'Egypte".
Gonin hall
Large hall with a balcony on Via Po enriched by a beautiful ceiling with scenes of outdoor games separated by frames of gilded stuccos frescoed by Gonin (1872) and important works of art of the '600-'700.
The welcoming and unique atmosphere dotted with important works of art from the 17th and 18th centuries makes it the ideal place to have breakfast or to organize a romantic and sophisticated dinner.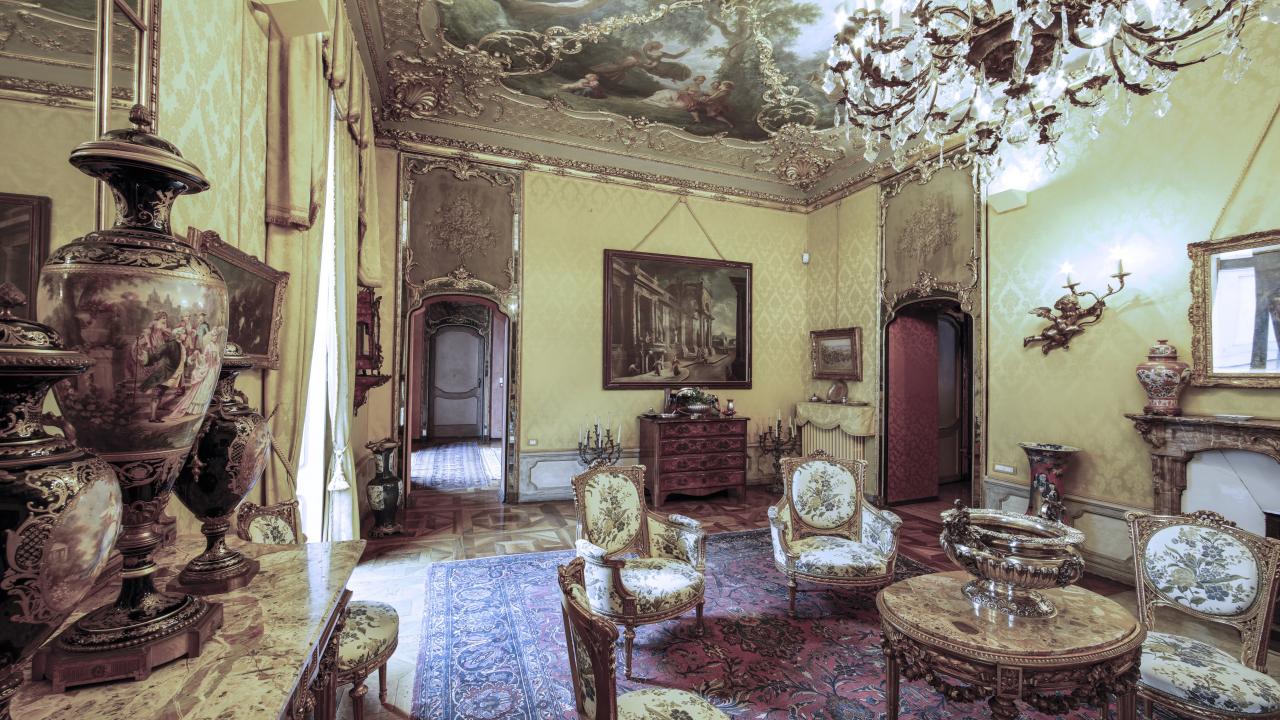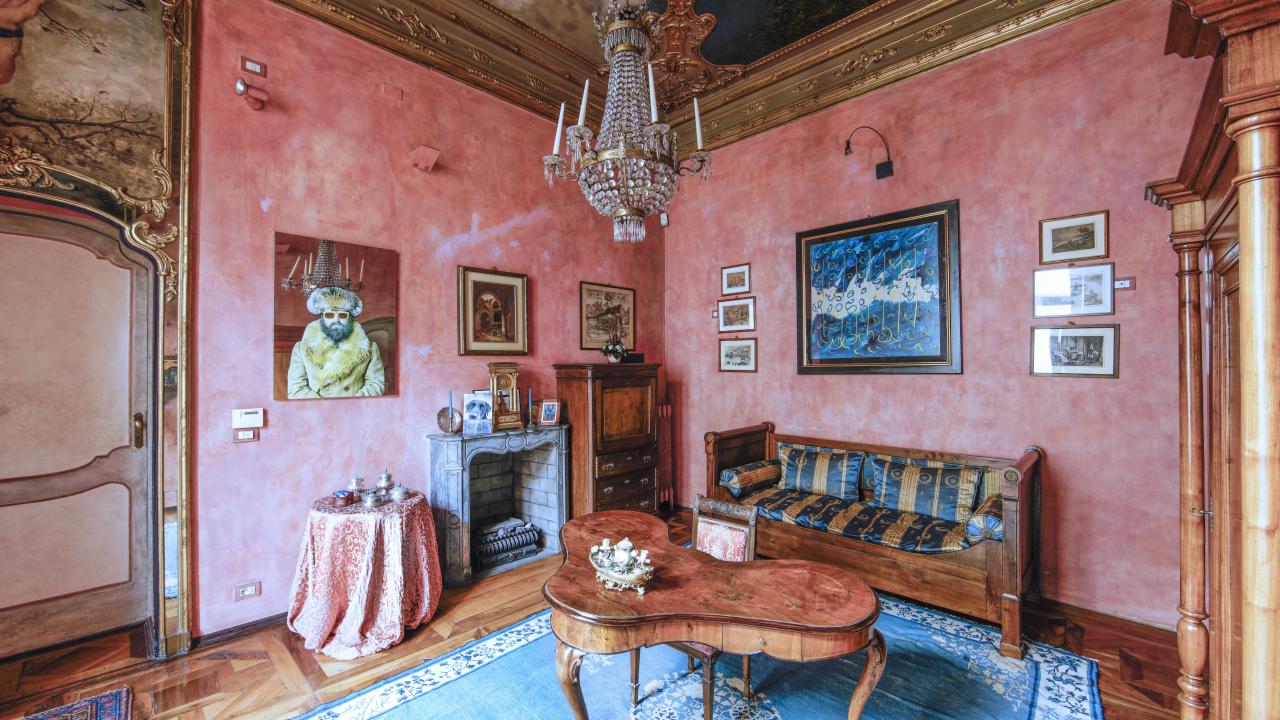 Pastoris library
Nineteenth-century environment with a dusting of contemporary art.
You can stop to plan the city tour or to collect the tourist notes of the day on a Venetian desk of the '700
The four seasons frescoed by Pastoris and interspersed with golden stuccos are your sky.